Click here to view original web page at thetyee.ca
Glass sponge reefs, only found in the cool waters of the Pacific northwest, help mitigate global warming and ocean acidification by absorbing 227 tonnes of CO2 every day.
Eighty metres beneath the surface of Howe Sound is a world of inky blackness that few people have ever experienced.
At this depth, divers breathe more helium than oxygen; it's so dark that they must carry dive lights to see where they are going. They wear around 400 pounds of equipment needed to keep them alive and help them move.
For every minute they stay down in the darkness, they'll need to spend three minutes slowly ascending back to the surface to avoid pressure injuries and decompression illness as gas expands in their bodies.
Hamish Tweed, a highly trained diver and citizen scientist, has been exploring these depths for a decade.
He's here to look at a unique animal that one scientist says could help humans mitigate climate change — and that environmentalists warn is threatened by oil and gas developments.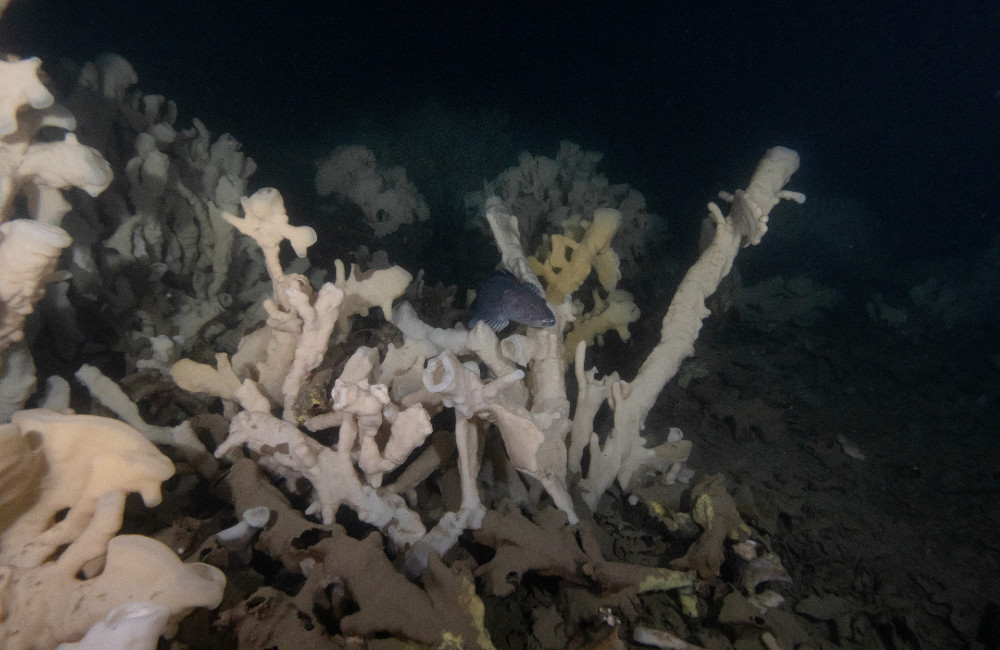 When a diving team member flicks on their high-powered flashlight, the animal appears, seeming to glow an eerie white.
The creature is as alien to us as something from space might be. Its body is three metres tall and two metres wide and its limbs stretch, droop and reach towards the surface. Its skeleton is built out of silica, or glass — a material that's plentiful in the silty bottom of the sound, left behind from the last ice age.
The animal is a glass sponge, or Hexactinellid, a filter-feeder that grows slowly and quietly in deep, cold waters around the world. Glass sponges are one of the oldest animal groups on Earth, first showing up in fossils from 570 million years ago. This makes them older than fish and older than dinosaurs.
These sponges grew on top of one another and formed reefs stretching as wide as 7,000 kilometres across during the Triassic period. The reefs thrived for 180 million years — meaning they metaphorically watched the dinosaurs come and go.
Then, 40 million years ago, these reefs appeared to die off and vanish from the world's oceans.
Until, that is, scientists found new reefs in the the 1980s, living in Howe Sound. While the sponges themselves live in waters across the world, the reefs, or bioherms — where generations of sponge grow, die, crumble and the next generation of sponge grows on top, slowly accumulating into giant reefs over thousands of years — are unique to the Pacific Northwest.
They haven't been discovered anywhere else on the globe, meaning the only known living examples are found in the cool waters of the Pacific Northwest.
An individual sponge may live for 200 years. The bioherm it rests on top of, made out of the bones of its ancestors, reaches to about 30 acres across in Howe Sound — about the size of a large city park.
In Hecate Strait, between Haida Gwaii and the mainland, reefs growing in colder, deeper waters are 35 kilometres long, 15 kilometres wide, 25 metres tall and 9,000 years old.
These eerie, age-old reefs are a "silent ally" in the fight against climate change, says Jessica Schultz, a marine ecologist who specializes in seafloor marine biodiversity in Howe Sound. The reefs along B.C. and Alaska's coasts sequester 227 tonnes of carbon per day as they filter bacteria out of the ocean, she says, equal to the carbon that is stored in 3.3 million trees.
Despite these special qualities environmental groups are warning that glass sponge reefs are threatened by potential oil and gas development.
This alleged threat is at the centre of a lawsuit between environmental organizations, the federal government and a multinational oil company.
The environmental law charity Ecojustice, on behalf of environmental organizations the David Suzuki Foundation and World Wildlife Fund Canada, is suing the federal government and the oil company Chevron Canada Ltd.
The goal is to have 19 exploratory oil and gas permits issued in the 1960s and 1970s declared illegal and thrown out, says Ian Miron, a staff lawyer with Ecojustice.
The 19 permits, which were extended indefinitely in the 1980s, are being targeted because they fall within the boundaries of two federally protected wildlife reserves.
Chevron holds one permit to explore land within the Hecate Strait/Queen Charlotte Sound Glass Sponge Reefs Marine Protected Area and 18 to explore land that overlaps with the Scott Islands marine National Wildlife Area.
It's unlikely that Chevron will start drilling for oil tomorrow — after all, there has been a federal moratorium on offshore exploration in B.C. since 1972, Miron says. But the moratorium could one day be lifted, he added, meaning the permits could be used.
"They're undermining the protections meant to be offered," he says.
New offshore oil projects are not unheard of in Canada. The federal government approved the Bay du Nord project in Newfoundland and Labrador in April. The project is projected to pull 300 million barrels of oil out of the ocean floor and generate $3.5 billion for the province, according to a government website.
Miron said he also found it concerning that Natural Resources Minister Jonathan Wilkinson said last summer that Bay du Nord would not be Canada's last offshore oil project.
While Natural Resources Canada declined to comment on the lawsuit, spokesperson Michael MacDonald said no oil and gas activity was expected off the coast of B.C. "in the foreseeable future."
Chevron similarly declined an interview but said it was "committed to safely and responsibly developing Canada's energy resources."
A map that's around 15 years old shows how several oil companies used to hold offshore permits in B.C. The majority of these permits were voluntarily given up and today only 50 of the 230 permits shown on the map exist, Miron says.
On Tuesday, Ecojustice updated its lawsuit. It had previously also been suing ExxonMobil Canada Properties for a permit that it held that overlapped with the Scott Islands. Miron told The Tyee ExxonMobil voluntarily surrendered the nine permits it held in B.C.'s offshore including the permit that overlapped with the Scott Islands. It was then dropped from the lawsuit.
The David Suzuki Foundation learned about the exploratory permits in the early 2000s while the provincial government was calling for the federal moratorium on offshore exploration to be lifted, says Jay Ritchlin, the Western Canada director for the foundation.
At the time the foundation decided the best way to prevent oil and gas development was to ensure the moratorium was kept in place and was robust, Ritchlin says.
WWF-Canada was working on getting oil companies to give up their permits voluntarily, but after decades of little process environmental organizations turned to the courts to challenge the legal status of the permits.
"These permits are an indication from 40 years ago that someone might come and look for oil," Ritchlin says. "We should eliminate the risk that this is possible."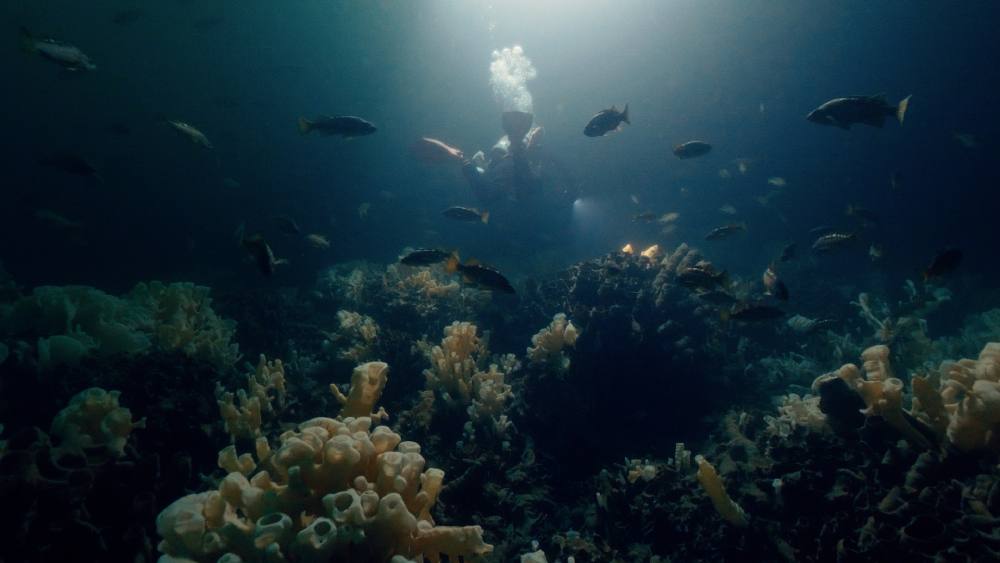 The Scott Islands, where 18 of the 19 contested permits are, is a 11,546-square-kilometre marine sanctuary for millions of seabirds and is protected as a National Wildlife Area under the Canada Wildlife Act. Several islands are also provincial parks.
The Hecate Strait/Queen Charlotte Sound Glass Sponge Reefs Marine Protected Area covers three reef areas totalling 2,410 square kilometres and is protected under the Oceans Act. In certain areas, all commercial, recreational and food, social and ceremonial fishing, as well as anchoring and cable laying, is prohibited in order to protect the reefs.
They're as fragile "as a potato chip," says Tweed, who is not involved in the lawsuit. He's seen reefs sliced in half "as if with a laser" where a single fishing line was dragged through.
Loopholes to allow for the possibility of oil and gas drilling were built into the framework of these federally protected wildlife reserves, Ecojustice's Miron says. The Scott Islands framework mentions how drilling could happen if the federal moratorium was lifted and the Hecate Strait framework notes "there is interest from certain companies to undertake both renewable and non-renewable energy projects within the boundaries of the MPA, in particular the development of undersea cable routes for energy transmission, or oil and gas tenures."
Parts of Howe Sound are also closed to fishing to protect five reefs. These reefs are not at risk of oil development, but are still endangered by a lack of public awareness or buy-in for their protection, Tweed says.
"The concept that we'd open our incredibly precious coast to oil and gas in the middle of a climate emergency is bizarre," says David Suzuki Foundation's Ritchlin.
Thanks to a federal announcement from early February, Marine Protected Areas established after April 25, 2019 will have minimum protection standards that prohibit "industrial activities, such as oil and gas exploration and exploitation, mining, dumping and bottom trawling."
That's a win for environmentalists, but won't protect the Scott Islands or Hecate Strait which were established before then, Miron says.
The lawsuit does not yet have a hearing date but one will likely be set before the end of the year, he adds.
Tweed says he and other folks who care about glass sponge report recreational fishing boats violating the fishing closures in Howe Sound to the Fisheries and Oceans Canada daily — sometimes multiple times a day. It's not just a lack of public knowledge, he notes, because authorities also find illegal fishing gear in the Salish Sea.
He's seen an entire reef scooped up and tumbled — likely from bottom trawling. It's unclear whether the reef will recover or is dead, but the schools of fish that once flourished around the reef have moved on, he says.
Tweed has been working on public education to help raise awareness. He's helped film a documentary and hosts talks at dive shops, conferences and museums about glass sponge and how to protect it.
Even if people aren't interested in sponge they likely still have an interest in protecting glass sponge reefs, Schultz says. Reefs are biodiversity hotbeds and important ecosystems that create habitat for marine life like lingcod, rockfish and spot prawns that we like to eat, she says.
Coastal Squeeze
Protecting these ecosystems is also just the "right thing to do," she says. These ecosystems clean the water, produce oxygen and help support the 750 species we can see in Howe Sound, and even more species that are invisible to us.
Humans still know so little about these animals and the habitats they create, she adds.
Even highly trained divers can only reach depths of just over 100 metres, which means only the reefs in Howe Sound, which grow between 24 to 96 metres deep, are accessible to researchers and citizen scientists. The reefs in Hecate Strait grow between 140 to 240 metres deep and are only accessible by submersible.
More people have been in space than seen some of these deeper reefs in Howe Sound, Tweed says. "I'm one of the seven or eight people on the planet who has ever seen them."
These reefs are "a biological treasure to our country and the world," Schultz says. "We really have no idea what goes on when we're not there and we can only see them for 10 to 15 minutes at a time. It's a good example of how little we know about our planet and how much we have to learn."